12V and 24V Low Voltage High Power Lamp and LED PWM Dimmers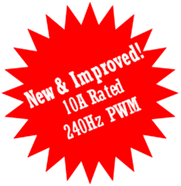 Our LED dimmer modules are designed to control the brightness of low voltage LED or filament lamps rated up to 10A. Operating from 12V or 24V DC, and controlling the load on the high side, low side or both, our diverse range of modules are designed to efficiently dim LED lamps and LEDs in a huge variety of applications.
Designed for LEDs, lamps and halogens
Widest range on the market
5A, 10A and 16A versions available
240Hz high accuracy PWM, LED flicker-free*
No minimum load requirement
For commercial, industrial, automotive and marine applications
Common ground (positive output) and common positive (negative output)
Dimmers available for high-side, low-side or both
Epoxy potted: water resistant or waterproof versions available
Designed and manufactured by us in-house in the UK
Competitive volume pricing and OEM branding available
*when used with compatible LED fittings.
All our dimmers will work with LED strip, LED replacement lighting, most LED replacements for MR11 and MR16 halogen fittings, and all low voltage LED fittings compatible with PWM.
DIM11 controls the lamp brightness by means of one external pushbutton. A brief press of the pushbutton toggles the lamp on and off, a sustained press ramps the lamp brightness up and down until the switch is released.
DIM12 uses the supplied potentiometer to vary the brightness. DIM12N is the negative output version.
DIM13 uses two switches (not supplied) for 'brightness up' and 'brightness down'. The DIM11 and DIM13 have a memory function that retains the current brightness level even when power is removed, and any switch can be used allowing full customisation of the control gear.
DIM14 is a voltage controlled dimmer and is designed to accept a universal 0-10V control voltage input found on home automation devices and PLCs such as Crestron™ controllers. Zero volts input turns the lamp fully off, 10V input turns the lamp fully on, and everywhere in between. The DIM14 provides an excellent way to control high power lighting from a PLC or Crestron™ or similar controller. DIM14N is the negative output version.
DIM15 is a radio controlled dimmer. Brightness Up, Brightness Down and on/off can be controlled from a small key-fob radio transmitter which is small enough to fit on a keyring. The module will work upto 150m away.
DIM10 module is designed to connect to one of the other DIMxx series to increase its power. An unlimited number of DIM10s can be connected to a single controller providing control for an unlimited lighting load (split into banks of 10A).
All the units employ a very efficient PWM switching technique to provide excellent operation for high power LED or lamp loads, and they are fully protected against intermittent output short-circuits, input over-voltage and under-voltage conditions. Unlike other LED dimmers on the market, the modules will control LED brightness from 0% (fully off) to 100% (fully on). The units will dim incandescent and LED lamps with ease, and the switching frequency is fast enough to avoid visible lamp flicker and LED colour shift.
Applications

Low voltage architectural lighting
Automotive and marine dash panels and lighting
Outdoor LED dimming and control
Wireless remote controlled dimming
Low voltage household lighting
Elecronic signage and advertising

Low voltage LED mood lighting
Hazardous area lighting
Crestron™/Lutron™/PLC controlled dimming
Home Automation dimming interface
Radio controlled lighting
Swimming pool lighting
The modules are available sealed in epoxy resin, resistant to water and oils. Corrosion-proof IP68 rated, fully sealed and wire-ended versions of all the dimmer modules are available (see images above). These modules have a W suffix, for example DIM14W. Extended temperature range versions are also available, specified with an E suffix, eg. DIM14E. Please contact us for further information.
Features
Our dimmers are compatible with the vast majority of 'dimmable' LED fittings on the market, but the PWM dimming technique may not be suitable for some LED lamps.
Specifications
High Side Positive Output 10A LED Dimmer Modules
Wide range of control options for LED loads upto 10A
Parameter
DIM10
DIM11
DIM12
DIM13
DIM14
Comment
Datasheet
Nominal Supply Voltage Range
9 - 32 V DC
Peak Supply Voltage Range
5.5 - 40 V DC
Operation not guaranteed
Output Type
High-Side Positive
PWM Switching Frequency
240Hz, 0% - 100% Duty Cycle
+/- 3%
Maximum Output Current
10A
Non-Sustained Peak Output Current
30A
< 3sec
Maximum Load
120W (12V), 240W (24V)
Control Input Type
Slave PWM
Single Switch
Remote Potentiometer
Up/Down Switch
0-10V Analogue Voltage
Quiescent Current, max
0.01mA
14mA
No-load operating current at maximum operating voltage
Efficiency
>97%
Electrical Connection
4mm2 rising clamp terminal block
Enclosure Style
Epoxy Potted ABS
Remote Controlled Positive Output LED Dimmer Modules
Supplied with RF transmitter for remote controlled operation
Parameter
DIM15
DIM15HP
Comment
Datasheet
Nominal Supply Voltage Range
9 - 32 V DC
Peak Supply Voltage Range
8 - 35 V DC
Operation not guaranteed
Output Type
High-Side Positive
PWM Switching Frequency
240Hz, 0% - 100% Duty Cycle
+/- 3%
Maximum Output Current
10A
16A
Non-Sustained Peak Output Current
30A
60A
< 3sec
Maximum Load
120W (12V), 240W (24V)
192W (12V), 384W (24V)
Control Input Type
Radio
Quiescent Current, max
25mA
No-load operating current at maximum operating voltage
Efficiency
>97%
Ingress Protection (IP Rating)
IP68
Electrical Connection
Wire-ended, 3x 30cm
Enclosure Style
Epoxy Potted ABS
DIN-rail Mount High Side Positive Output 5A LED Dimmer Modules
DIN-rail mount dimmers with many control options for LED loads upto 5A
Parameter
DIM11DIN
DIM12DIN
DIM13DIN
DIM14DIN
Comment
Datasheet
Nominal Supply Voltage Range
9 - 32 V DC
Peak Supply Voltage Range
5.5 - 40 V DC
Operation not guaranteed
Output Type
High-Side Positive
PWM Switching Frequency
240Hz, 0% - 100% Duty Cycle
+/- 3%
Maximum Output Current
5A
Non-Sustained Peak Output Current
12A
< 3sec
Maximum Load
60W (12V), 120W (24V)
Control Input Type
Single Switch
Remote Potentiometer
Up/Down Switch
0-10V Analogue Voltage
Quiescent Current, max
14mA
No-load operating current at maximum operating voltage
Efficiency
>97%
Ingress Protection (IP Rating)
IP20
Mechanical Fixing
DIN-Rail Mount
Electrical Connection
4mm2 rising clamp terminal block
Enclosure Style
DIN-mount vented package
High Side Positive High Power Output 16A LED Dimmer Modules
For high power LED loads
Parameter
DIM10HPE
DIM11HP
DIM12HP
DIM13HP
DIM14HP
Comment
Datasheet
Nominal Supply Voltage Range
9 - 32 V DC
Peak Supply Voltage Range
5.5 - 40 V DC
Operation not guaranteed
Output Type
High-Side Positive
PWM Switching Frequency
240Hz, 0% - 100% Duty Cycle
+/- 3%
Maximum Output Current
16A
Non-Sustained Peak Output Current
60A
< 3sec
Maximum Load
192W (12V), 384W (24V)
Control Input Type
Slave PWM
Single Switch
Remote Potentiometer
Up/Down Switch
0-10V Analogue Voltage
Quiescent Current, max
0.01mA
16mA
No-load operating current at maximum operating voltage
Efficiency
>97%
Ingress Protection (IP Rating)
IP68
Electrical Connection
Wire-ended, 4x 30cm
Wire-ended, 5x 30cm
Enclosure Style
Epoxy Potted ABS
Complementary Output LED Dimmer Modules
Suitable for simultaneously dimming common positive and common negative LEDs or lamps. Designed for instrument panel applications where panel backlighting and LED switch illumination are to be dimmed at the same time
Parameter
DIM12-2DIN
DIM12-2W
DIM13-2DIN
DIM13-2W
Comment
Datasheet
Nominal Supply Voltage Range
9 - 32 V DC
Peak Supply Voltage Range
5.5 - 40 V DC
Operation not guaranteed
Number of Outputs
2
Output Type
Complementary Positive and Negative
PWM Switching Frequency
240Hz, 0% - 100% Duty Cycle
+/- 3%
Maximum Output Current
5A per output
Non-Sustained Peak Output Current
12A per output
< 3sec
Maximum Load
60W (12V), 120W (24V) per output
Control Input Type
Remote Potentiometer
Up/Down Switch
Quiescent Current, max
19mA
No-load operating current at maximum operating voltage
Efficiency
>97%
Ingress Protection (IP Rating)
IP20
IP68
IP20
IP68
Mechanical Fixing
DIN-Rail Mount
DIN-Rail Mount
Electrical Connection
4mm2 rising clamp terminal block
Wire-ended, 6x 30cm
4mm2 rising clamp terminal block
Wire-ended, 6x 30cm
Enclosure Style
DIN-mount vented package
Epoxy Potted ABS
DIN-mount vented package
Epoxy Potted ABS
Automatic (Light Sensitive) LED Dimmer Modules
Suitable for automatic brightness control according to ambient light level
| Parameter | DIM16 | Comment |
| --- | --- | --- |
| Datasheet | | |
| Nominal Supply Voltage Range | 9 - 32 V DC | |
| Peak Supply Voltage Range | 5.5 - 40 V DC | Operation not guaranteed |
| Output Type | High-Side Positive | |
| PWM Switching Frequency | 240Hz, 0% - 100% Duty Cycle | +/- 3% |
| Maximum Output Current | 10A | |
| Non-Sustained Peak Output Current | 30A | < 3sec |
| Maximum Load | 120W (12V), 240W (24V) | |
| Control Input Type | Light Intensity | |
| Quiescent Current, max | 25mA | No-load operating current at maximum operating voltage |
| Efficiency | >97% | |
| Electrical Connection | 4mm2 rising clamp terminal block | |
| Enclosure Style | Epoxy Potted ABS | |
Negative Output, Low-Side (common positive) LED Dimmers
Suitable for RGB LED strips and common positive LEDs and lamps
Parameter
DIM11N
DIM12N
DIM13N
DIM14N
Comment
Datasheet
Nominal Supply Voltage Range
10 - 32 V DC
Peak Supply Voltage Range
7 - 55 V DC
Operation not guaranteed
Output Type
Low Side Negative
PWM Switching Frequency
240Hz, 0% - 100% Duty Cycle
+/- 3%
Maximum Output Current
10A
Non-Sustained Peak Output Current
30A
< 3sec
Maximum Load
120W (12V), 240W (24V)
Control Input Type
Single Switch
Remote Potentiometer
Up/Down Switch
0-10V Analogue Voltage
Quiescent Current, max
14mA
No-load operating current at maximum operating voltage
Efficiency
>97%
Electrical Connection
4mm2 rising clamp terminal block
Enclosure Style
Epoxy Potted ABS
Multichannel LED Dimmer Modules
Dimmers with more than one independent channel
Parameter
DIM81DIN
DIM84DIN
Comment
Datasheet
Nominal Supply Voltage Range
9 - 32 V DC
Peak Supply Voltage Range
5.5 - 40 V DC
Operation not guaranteed
Number of Outputs
8
Output Type
High-Side Positive
PWM Switching Frequency
240Hz, 0% - 100% Duty Cycle
+/- 3%
Maximum Output Current
5A per channel
Non-Sustained Peak Output Current
30A per output
< 3sec
Maximum Load
60W (12V), 120W (24V) per channel
Control Input Type
Single Switch
0-10V Analogue Voltage
Quiescent Current, max
80mA
No-load operating current at maximum operating voltage
Efficiency
>97%
Ingress Protection (IP Rating)
IP20
Mechanical Fixing
DIN-Rail Mount
Electrical Connection
4mm2 rising clamp terminal block
Enclosure Style
DIN-mount vented package

DIM10 - Power Boosting Slave LED Dimmer



| | | |
| --- | --- | --- |
| | £43.20 | |


DIM10HPE - High Power Slave LED Dimmer, IP68



| | | |
| --- | --- | --- |
| | £60.00 | |


DIM11 - Single Switch One Touch LED Dimmer



| | | |
| --- | --- | --- |
| | £43.20 | |


DIM11-STEP - Single Switch Stepped Brightness LED Dimmer



| | | |
| --- | --- | --- |
| | £43.20 | |


DIM11DIN - DIN-Mount Single Switch LED Dimmer



| | | |
| --- | --- | --- |
| | £43.20 | |


DIM11HP - One Touch High Power LED Dimmer, IP68



| | | |
| --- | --- | --- |
| | £60.00 | |


DIM11MW - Selectable Dimmer or Relay



| | | |
| --- | --- | --- |
| | £60.00 | |


DIM11N - Single Switch One Touch Negative LED Dimmer



| | | |
| --- | --- | --- |
| | £43.20 | |


DIM11NDIN - Single Switch One Touch Negative DIN-mount LED Dimmer



| | | |
| --- | --- | --- |
| | £43.20 | |


DIM12 - Potentiometer Controlled LED Dimmer



| | | |
| --- | --- | --- |
| | £43.20 | |


DIM12-2DIN - Dual Output Pot Controlled DIN LED Dimmer



| | | |
| --- | --- | --- |
| | £66.00 | |


DIM12-2W - Dual Output Potentiometer LED Dimmer, IP68



| | | |
| --- | --- | --- |
| | £66.00 | |


DIM12C - Inline Rotary LED Dimmer



| | | | |
| --- | --- | --- | --- |
| | £55.20 | | from distributor |


DIM12DIN - DIN-Mount Potentiometer Controlled LED Dimmer



| | | |
| --- | --- | --- |
| | £43.20 | |


DIM12HP - Potentiometer Controlled High Power LED Dimmer, IP68



| | | |
| --- | --- | --- |
| | £60.00 | |


DIM12N - Potentiometer Controlled Negative Output LED Dimmer



| | | |
| --- | --- | --- |
| | £43.20 | |


DIM12NDIN - Potentiometer Controlled Negative Output DIN-mount LED Dimmer



| | | |
| --- | --- | --- |
| | £43.20 | |


DIM13 - Dual Switch LED Dimmer



| | | |
| --- | --- | --- |
| | £43.20 | |


DIM13-2DIN - Dual Output Dual Switch DIN LED Dimmer



| | | |
| --- | --- | --- |
| | £66.00 | |


DIM13-2W - Dual Output Dual Switch LED Dimmer, IP68



| | | |
| --- | --- | --- |
| | £66.00 | |


DIM13DIN - DIN-Mount Dual Switch LED Dimmer



| | | |
| --- | --- | --- |
| | £43.20 | |


DIM13HP - Dual Switch High Power LED Dimmer, IP68



| | | |
| --- | --- | --- |
| | £60.00 | |


DIM13N - Dual Switch LED Negative Dimmer



| | | |
| --- | --- | --- |
| | £43.20 | |


DIM13NDIN - Dual Switch Controlled Negative Output DIN-mount LED Dimmer



| | | |
| --- | --- | --- |
| | £43.20 | |


DIM14 - 0-10 Voltage Controlled LED Dimmer



| | | |
| --- | --- | --- |
| | £43.20 | |


DIM14DIN - DIN-Mount 0-10 Voltage Controlled LED Dimmer



| | | |
| --- | --- | --- |
| | £43.20 | |


DIM14HP - 0-10 Voltage Controlled High Power LED Dimmer, IP68



| | | |
| --- | --- | --- |
| | £60.00 | |


DIM14N - 0-10 Voltage Controlled Negative Output LED Dimmer



| | | |
| --- | --- | --- |
| | £43.20 | |


DIM14NDIN - 0-10 Voltage Controlled Negative Output DIN-mount LED Dimmer



| | | |
| --- | --- | --- |
| | £43.20 | |


DIM15 - Remote Radio Controlled LED Dimmer



| | | |
| --- | --- | --- |
| | £108.00 | N/A |


DIM15-TRANS - Spare Transmitter for DIM15



| | | |
| --- | --- | --- |
| | £19.20 | |


DIM15HP - Remote Radio Controlled High Power LED Dimmer



| | | |
| --- | --- | --- |
| | £118.80 | N/A |


DIM16 - Light Intensity Controlled LED Dimmer



| | | |
| --- | --- | --- |
| | £45.60 | |


DIM81DIN - 8 Channel OneTouch LED Dimmer



| | | |
| --- | --- | --- |
| | £210.00 | |


DIM84DIN - 8 Channel Voltage Controlled LED Dimmer



| | | |
| --- | --- | --- |
| | £210.00 | |


DIM84NDIN - 8 Channel Voltage Controlled Low Side LED Dimmer



| | | |
| --- | --- | --- |
| | £222.00 | |


ENCPOT10K - Enclosed Pot for DIM12 Series



| | | |
| --- | --- | --- |
| | £3.72 | |

Get Adobe Acrobat Reader
×