About Us
Abeltronics is an electronic engineering, design and manufacturing company based in Norfolk, UK. We design and manufacture our own products in-house in the UK, and we produce customised electronic devices for other organisations.
Capabilities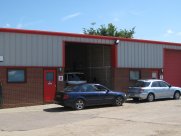 Our capabilities include:
Electronic engineering: design, development, prototyping and manufacture
High speed digital logic and microcontroller development
Embedded firmware and hardware development
Audio and small-signal analogue design
Electronic design consultancy and subcontracting
PCB design and manufacture including fine pitch SMT and BGA packages
Windows software development
History
Abeltronics was formed by Lewis Abel in around 1998 in his bedroom. His first customer, Graham Davies (http://www.challengers2.co.uk/), wanted a digital logging thermometer for monitoring the temperature of the cabin and engines (electric motors) of his model boat. Manufactured in an old sealable strawberry punnett, the Abeltronics TEMP-901 featured a digital display, high and low set point alarms and min/max temperature logging and became the first custom electronic device to be manufactured for a commercial purpose. All this when Lewis was 14 years old. At the time, the product was used as a GCSE project which gained an A-star grade.
Customer growth was swift, our first trade customer being marine electrical supplier Brian Ward Marine Equipment for whom we started to make sealed lead-acid battery chargers in 1999. Brian Wards, after 24 years, remains a valued customer to this day, and Graham still used us for his custom electronics until his retirement.
The company has grown steadily since its humble beginnings, and now occupies a purpose-built workshop to the west of Norwich, UK. We have a fully equipped electronics workshop, and a research and development laboratory complete with some of the most advanced and state-of-the-art electronic test and measurement equipment available. We export our own products to every continent and our designs are used by some of the most prestigious customers in countries all around the world.
If you need a customised table lamp or an automated biodiesel manufacturing facility, Abeltronics can help; and it is this attitude and diversity that keeps us going.
Our Friends and Associates
| | |
| --- | --- |
| | Brian Ward Marine Equipment distributes and sells our products, amongst other things, and produces some lovely machined and engraved dashboard panels for boats. |
| | Sunseeker builds some of the finest luxury yachts in the world, and we are pleased to supply them. |
| | Bright Green Technology distributes and sells our products and supplies a wide range of LED lighting solutions. |
×